Pearson Homeschool
Monday, June 18, 2012
I received a grade 6, Scott Foresman Reading Street Homeschool Bundle from Pearson Homeschool. The homeschool bundle includes a lot of material: 2 500 page hardcover books for the student, a teacher's resource DVD, A teacher's guide called Guide on the Side (GOTS) and an ExamView Assessment CD.
I appreciated the mix of physical product and computer based items in this bundle. I found the material to be very smart and intuitive to use. The content sometimes seemed more geared to a typical classroom even though it is supposed to be a homeschool curriculum. For instance, in the GOTS book, there are ideas for teacher workshops. I don't see homeschoolers brainstorming over this particular subject matter- the way teachers in a traditional classroom with typical classroom prep for 20 or so kids all at the same level might! Here is what the Person Homeschool site lists as benefits to the program they offer.
I had some issues with downloading the assessment CD, but my computer is having issues and I can't say if that was the CD or my computer. I didn't feel I needed the material on that at this time anyway.
The teacher's rescource DVD, however, was packed full of very useful print outs. There are 9 pages for each of the stories. There are 6 units and 6 weeks in a unit for a full school year worth of work. The printables are particular smart -as opposed to a consumable workbook. As a homeschool Mom I love the flexibility to print what I want and as many as I want of a particular worksheet for a particular sunject. The worksheets turn the student manuals from just a reading book into a complete language arts program.
The Student books are impressive. Even without these worksheets, the student books have a lot of additional information geared to teach thinking skills to the student. The pages are a little thin in my opinion, but that is the only fault I can find. I am sure it helps to keep the cost down, but I wonder how it will hold up through the years with my students.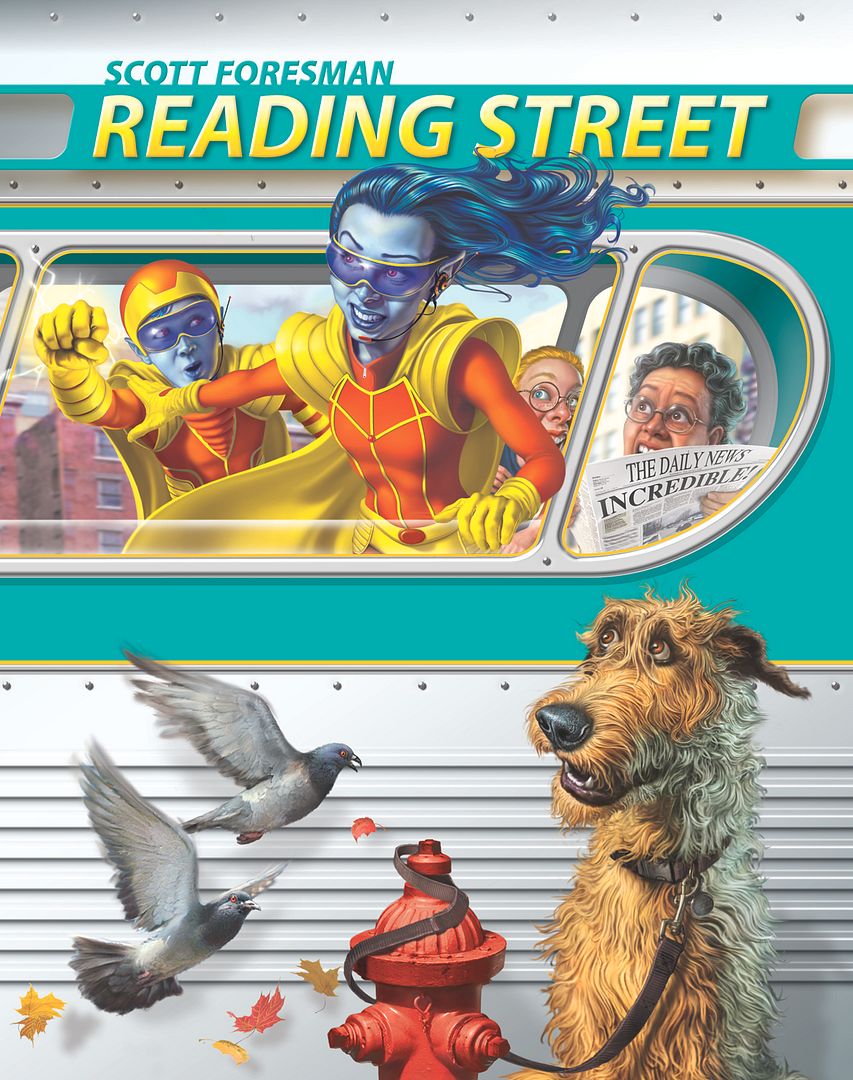 2 of my children are reading at a 6th grade level. The way we used the material was each child read the material before the story and then the story itself. The stories were interesting to my children. My 10 yo son liked what he read and was very eager to do his assignments also. My 9 yo, who actually reads above a 6th grade level, was bored by some of the stories if he had read them before and needed more structure. I feel that is because he reads at a 6th grade level, but doesn't think at a 6th grade level yet. Plus, he is hard to stay focused. So, while I love the illustrations, the boxes and supporting material might have been more distracting than helpful for him.
Pearsonhomeschool.com has a wide variety of other subjects in addition to other levels of Scott Foresman Reading Street. Their website is easy to search.
You can also fill out a form to contac Peasron Homeschool: http://pearsonhomeschool.com/index.cfm?locator=PS14Ox
I was very impressed by the illustrations in the Scott Foresman student books. Even though the stories are real literature, the pictures were updated and fun. The outside covers are even interesting! They are equally appealing for a boy or a girl and would definitely catch my attention more than a typical reading book.
The complete bundle can be purchase for $124.99.
I feel it is unlikely I would spend $124.99 for single course. True, it is a complete curriculum that includes comprehension, vocabulary, dictionary skills, computer skills, worksheets. However, we personally use a core curriculum that is literature based and I would prefer for all those materials to support what we already are reading. I loved this program, though! If you are looking for a complete program, this might be a perfect fit for your family!
As part of the TOS Review crew, I received this product for free in exchange for my honest review.
0 Comments