Go Science sold through Library Educational Services review
Friday, May 11, 2012

Library and Educational Services (LES) sent me 2 videos from the Go Science Series offered by their company. I chose to review Volume 2 and Volume 5 of the 6 DVDs in the series.
This series was originally made for a spot on a Christian TV program. Ben Roy still travels and presents live shows for Science Zone in his "over the top" manner that has earned him at least one Teacher of the Year award. The DVDs are copyrighted 2006 and are produced by Go Science LLC. While offered in other places online, I doubt they can be found at this great price other than through Library and Educational Services.
Volume 2 covered the subjects of Simple Machines, Sound and Weather, in 14 demonstrations. Each demonstration is very short and would be easy to incorporate into a science lesson in place of working an experiment or just as educational entertainment or the whole DVD can be watched as a stand alone item.
Volume 5 is nearly 50 minutes long and covers Air/ Flight in 12 short, high energy demonstrations.
Ben Roy demonstrates in front of a classroom type settig with the help of children volunteers. It is refreshing to see his class is made up of average seeming children. It seemed the volunteers weren't overly rehearsed and most of the children appeared clearly interested in the lesson being taught. At the end of each lesson, Ben Roy points out all Science teaches us more about our Creator, God . A sample lesson can be viewed here:
My 2 younger school aged children watched these DVDs over and over. My 8 year old described both DVDs as "awesome" and hopes we will get the other DVDs in the series. My 7 yo daughter especially loved the egg in a bottle demonstration, and also liked watching the lessons repeatedly. However, even though the age range is stated to be 6- 14, I think this series would not hold the attention of many 14 yo's. My 10 yo has read a lot of science books and experiment books. He didn't feel the DVDs taught him anything new. He stated he would not want to watch them again and would not be interested in me getting more.
In fact, he opted to not watch anything instead of watching the lessons again with the 7 and 8 yo this afternoon.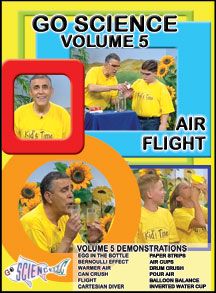 Personally, I had a hard time watching or listening to much of this DVD . However, I have never really enjoyed programing geared specifically for children. So, I am really not the best judge. I believe these DVDs would be great for many families and for children in the 6- 10 age range. Some of the subjects covered are appropriate for older children, but I feel they would think the DVDs are below them. At only $8.97 for an individual DVD or $47.95 for the set of 6, they are in the very affordable range- I feel.
It was a pleasure getting to know more about the company Library and Educational Services (LES) and what they have been offering the homeschool community for 35 years. LES is a wholesale company selling directly to educators (including homeschoolers), librarians, church leaders, missionaries, resellers and licensed day cares for 30 - 70% off list price. Almost all the products offered are completely free of evolution references.
While I don't think we will be ordering more of the Go Science DVDs, I do expect to order from Library & Educational Services again in the near future.
There are several ways to contact LES. If you qualify to purchase from this company, you can simply set up an account and order online. However, here is also a link to alternate ways of reaching LES.
Disclaimer: As a member of the TOS review crew, I recieved these DVDs for free in exchange for my honest review.
0 Comments