Reading Eggs- Part 2
Friday, March 2, 2012

Here is the complete review for the Reading Eggs program I spoke about a couple weeks ago.
From the very first sight of the Reading Eggs website, I was pretty sure this was going to be a hit. My youngest daughter was the only one who tried this online program out.
Set up was easy, log in was simple enough for my 7 year old to do on her own. While some things didn't work quite right , this is to be expected with any computer related program. I didn't personally see or hear anything that was offensive, so I appreciate that a lot!
The beginning assessment placed my daughter in the correct level (it seems) and she likes to do several lessons a day. There are so many different areas she can go into and explore. She discovered most of these on her own, and only avoided a couple (didn't like the songs because she thought they were "weird" and didn't know what she was supposed to do in the Story Factory). She can buy items from the store and she can also play games. As expected, most of the games are actually designed to develop stronger reading skills.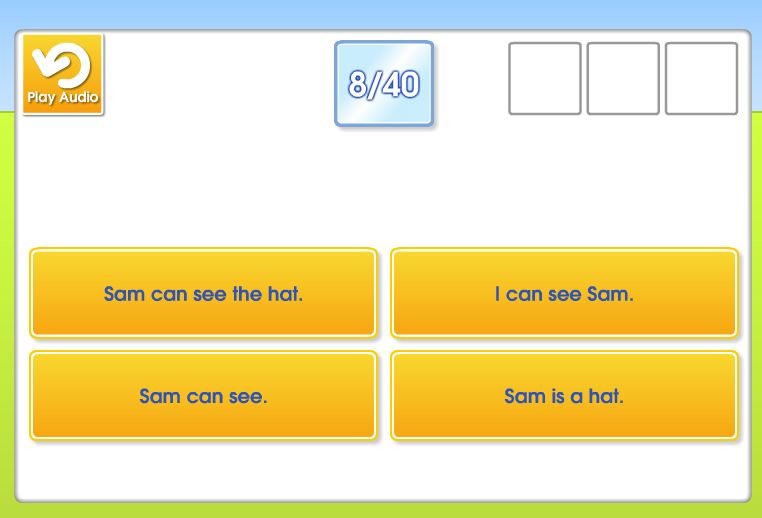 This program worked perfectly for us since she often needs something to keep her busy and she struggles with reading. More correctly, she struggles with sitting down and focusing on it. She has a great memory and clearly has the ability, but I did not care to repeat the mistakes I made teaching my 14 year old to read. We both ended up being completely frustrated and it was clearly a battle of the wills. I knew she would read and I have no doubts she is going to be a great reader. Between the babies coming home from Russia and trying to fit in all the other schooling, it just wasn't a battle I wanted to fight.
Reading Eggs definitely made reading fun for her! While the lessons are great in concept and her reading has definitely improved, there are some glitches that need to be worked out still. Sometimes the lessons took a while to load, but generally there is a game to play in the meantime. My daughter takes after me and has very little patience for that sort of thing. Sometimes there were glitches and I would hear the instructions coming double or 2 voices speaking at once. I imagine it is because she was clicking on something repeatedly, but it still was confusing and irritating.
Clearly, the program draws children in and they know how to navigate intuitively. I intended to sit with her more along the way, but she figured out almost things on her own. Unlike other programs she tired of, she would spend all day on Reading Eggs. (Some programs we used in the past held her attention for 3- 4 weeks, but then I had to really encourage her to keep doing them. With Reading Eggs she asked turn the computer on for her every day) The rewards are fun, but I don't think she even needed those as motivation. Though, she did know how to use them and buy things for her avatar creature. So, they might have had more of an appeal than I think.
The Story Factory didn't seem appropriate for her reading level and the directions are not spoken, instead, she would have to read the words as they scrolled by on a screen. I feel she would not have been able to do that.
All in all, we were very happy with this program. Reading Eggs has levels for older children as well. Since you can take advantage of the free trials, I would definitely recommend this program for any family- homeschooled or not- and see if it is a good fit. Also, the free trial doesn't require any credit card to register. So, you don't have to worry about being tricked into paying for something that claims to be free. Also, there is a wealth of information on the Reading Eggs website about why is works, sample lessons, other produces offered and FAQ.
I can't remember what level she started out on? 62 I think? And she is now on lesson 94 out of 100. Each lesson is made up of 10 sections. After each level is unlocked, the child can go back and redo the lessons if wished, but they have to be unlocked in order. Her sight word retention is really improved after just a few weeks trying this program out. I am SO thankful we have this program to use until May. I can't imagine telling her it is over when she loves it so much. We couldn't afford to buy the program right now (we will evaluate in May). The cost is steep for us- since it would be for only 1 child to use. It is $9.95 a month , $49.95 for 6 months or $75 for the year. We have several other reading materials, and lots of paper readers, etc. So, I would probably not spend the money on it at this time. I feel it is well worth the money, though. A second or third child can be added at the same time and receive 50% off. So, I really do think that is a good price, just not something we could afford to do right now.
Often with online programs, I am not sure if the much is learned or if it is a glorified worksheet/ time filler type activity. I saw a marked improvement in my daughters reading ability and a new interest in words that I have not been able to wake up in her. I know that is directly related to her using Reading Eggs.
As part of The Old Schoolhouse Review Crew, I received a free trial and 3 month subscription for free in exchange for my honest review of this program.
0 Comments