We LOVE Math Rider!
Friday, February 10, 2012
I know, I know, many of my posts are very Pollyannaish this year. Mainly due to the fact I am only requesting to review items I truly feel will benefit our family. In fact, this year as part of The Old Schoolhouse Review Crew, I have only had a couple reviews for things I haven't requested. Those have generally turned out to be something useful. In fact, I have had more I wish I could have reviewed! However, Math Rider is one of our all time favorite review items. In fact, we had the privilege of being able to review this wonderful math game for kids twice. After our first review, I actually bought the program and we have been using it all along in our school.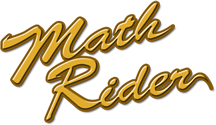 What is Math Rider??
Math Rider is an intelligent math game useful in aiding rapid recall for the basic math functions: addition, subtraction, division, and multiplication.
I strongly recommend everyone who has access to a computer try this out with their children (or parents who are rusty on their math skills can certainly try as well!)! The Math Rider game is available as an instant download and allows for multiple riders. The cost of $37 is the same to you no matter the number of riders. This makes it an excellent tool for large families, yet it is still affordable for small families as well. I know it is more than packs of flash cards, but unless you have a child with perfect recall, the flash cards just seem to make it even harder to remember when they are wrong. Speaking from personal experience, they never, ever helped me with learning my 8 time tables! No more boring flashcards that require constant frustration for both the student and the parent.
Recently, Math Rider came out with several updates to their system and the updates were free to those of us already using their system! My children love it even more. Plus, with a free trial offer and 30 day money back guarantee, there is zero risk to trying the program out yourself!
The game itself involves a story of a princess who needs to be rescued. Each rider is seeking to do that by traveling over hurdles while answering math questions . In keeping with the story, the background also changes, yet it was not a distraction to my children. New parts of the story are told as quests are completed and before moving on. Math Rider intelligently adjusts to the speed and knowledge of each rider. Your horse in the game jumps over hurdles with each problem solved. When the answer is correct, the next question is shown. A pleasant chime sounds if the answer is correct and if incorrect, an adorable voice gives the correct answer (One Plus Three Equals Four- for example) and then the game proceeds. The wrong answers are then inserted into the ride more often at a proper timing to encourage long term retention.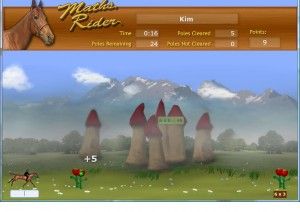 As a reward for completing a ride, points are given. 500 points are needed to answer a quest. Great rewards are also handed out to the successful students. Even my 14 year old gets excited about these- which I find amusing!
It really is one of those things you will have to try on your own. In spite of how much I love this game, this review doesn't give it justice! There are too many parts to mention. At first, I was frustrated I couldn't start multiple quests. However, in the testing of the game, it was discovered that all students should start with the most basic function and complete that before moving on the other functions. I thought it would be good for my older student to start separate quests and alternate which days they work on each. I even tried to work around this "problem" by having them start separate quests under different names. The problem with that is they didn't earn the full rewards that way. Also, if your child truly knows addition- for instance- they will rapidly move through that quest. There is a good chance he has gaps you are unaware of, however. I love how I can be out of the room and still listen and tell the child is still working on his math rider.
Even though David works with computers, we do not typically believe school on the computer is a great idea. However, we make an exception for Math Rider. Our children love it and we love the improvement we have seen in their math facts! Clearly, we use this program as a supplement to our homeschool math program. However, I know of others who do not homeschool and still find Math Rider very useful as a practice.
My only complaint? Wish they came out with an app for the iPad or iPod touch so we could bring it with us anywhere!
While I did receive a trial of Math Rider through The Old Schoolhouse review crew, we also purchased our own copy (great news is your child will not lose the points he earns once you do convert to the full version) and I am an affiliate as well. The free trial is an excellent way to see if this program is a fit for your family and school.
0 Comments