Maestro Classics
Friday, January 13, 2012
Tchaikovsky's music has always been a favorite of mine, so I jumped at the chance to review The Story of Swan Lake as presented by Maestro Classics. When I received my CD, I panicked a little thinking it was just a CD of music narrated, but was very glad to know the entire explanation of the music as well additional educational material all on one CD. I received the 54 minute CD that sells for $16.98, but it is also available as a download for $9.98.
I fully intention to work with the online guide and design a complete unit study revolving around Swan Lake- back when I signed up for this review. That was before we even left for Russia to bring our baby boys home. However, I received the CD very late for reasons unknown. When it finally reached me, it actually wasn't even postmarked , so I believe this was a post office error and not a mistake made by the sender. However, I have actually only had the CD in my hands since Saturday , January 7th. Three of thedays this week were spent at the bedside of my oldest daughter while she was hospitalized.
Because of the current serious health condition of our oldest daughter, 2 of our younger children are very concerned about death and dying, I felt the subject matter was too serious to go over yesterday - the one full school day this week- since the swan and prince jump to their deaths and then are reunited on a boat going to heaven. Also, my oldest daughter is now home and very sensitive to any mention of death also. While, this particular hospitilization was not as tramatic as the one in December. None of us expected her to be back in the hospital again. So, in many ways this time was much more emotional for us all.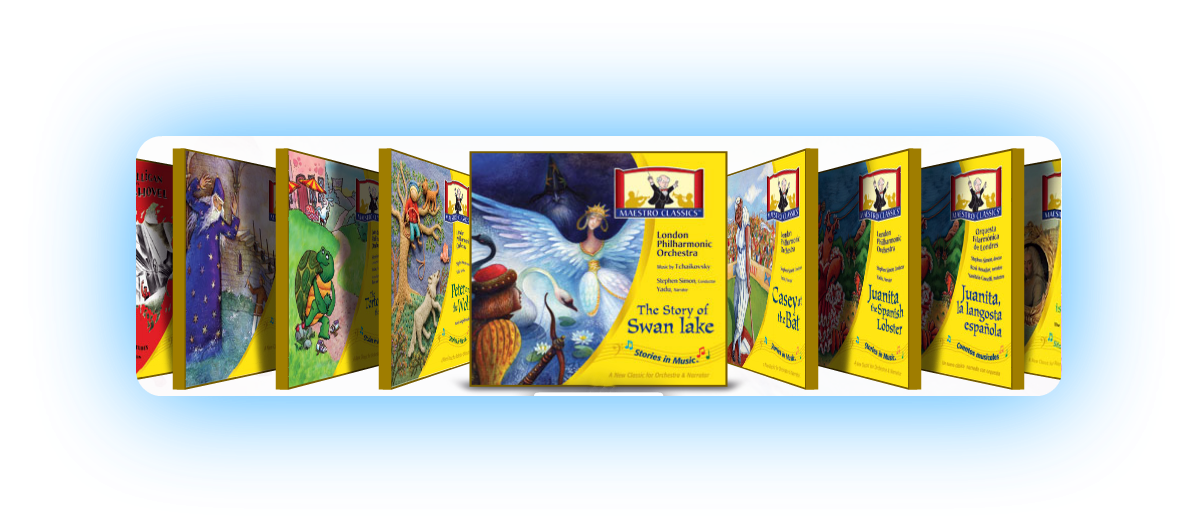 I will update this review at a later date or post a new one once we have had a chance to do a full unit study. We are definitely interested in learning more about Russian since our new sons have that heritage in common with the composer of this beautiful work.
Included on the Maestro Classic website are links to online resources and suggestions for teaching under the category of Educational Materials and subcategory Homeschool Music Curriculum Guides encompass History, Science, Geography, Language Arts, Art, Music, and Math turn any of the 9 CDs(currently, 8 have the curriculum and 1 is coming soon) into a complete stand alone study for school. After each suggestion -in parenthesis-is the grade recommendation or range for the material. I would love to order Casey at the Bat right now since that is currently a favorite story for my 8 yo son.
This series is recommended for a wide range of grades, but K5- 5th grade is probably the target age- yet, my 13 month and 11 month old sons listened along and were very intrigued by the music- perhaps they listened to a lot of Tchaikovsky in the Russian orphanage. They both love music, but our 13 month old particularly does.
My 14yo and 9 yo son also listened to the CD with me and surprisingly didn't leave the room (even though it wasn't a school time), In fact, I was listening for review purposes intending to use this CD each day in school this week. My 9 yo loves all music and takes piano lessons, however, I never thought my 14 yo was interested in music at all. Both had questions about the music and were clearly interested in listening. Before recieving this item, ,I thought it would be a "hard sell" since it isn't a video and we haven't listened to music for school in the past. If it had been part of school itself, staying would have been mandatory. But since the CD didn't reach me until Saturday, I listened to it all the way through on Sunday and then was in the hospital with my daughter from Monday - Wednesday. The rock version of Swan Lake called Speed Metal Swan arranged and played by Joe Stump was a hit with both my boys, but I honestly have never understood the appeal of heavy metal music. I did find the way Joe Stump plays the guitar to be amazing, though and can see how this could be a benefit to get kids interested in the music. For me it was a negative thing to have that version on the CD. The original music is so beautiful. I really appreciated the narration and back story of the ballet by the composer as well as the fun song to teach a summary of Swan Lake
In short, I wholeheartedly recommend this entire series (even though I have only listened to this one CD). I am very eager to pull together the suggested items and build an unit study around it. Additionally, the narration is quite well done . If we didn't have such a scare with my daughter recently, I would have certainly at least listened to this with all my children. The tragic, though also heartwarming , end, it is just not a subject matter I can expose to my 7 and 8 yo at this particular time. I did not know we would be dealing with any of this back when I requested to review this item.
As a member of The Old Schoolhouse Review Crew, thisStory of Swan Lake CD was given to me in exchange for my honest review.
0 Comments