Apologia- "How to Have a Heart for your Kids"
Monday, September 5, 2011
How to Have a Heart for your Kids is a small, insightful book focused on encouraging homeschool parents to look at their children from a whole-heart stand point. Rachel Carman does a great job of concisely and effectively encouraging thoughts about the ways we view our children and the way we can encourage them to be themselves AND what search for God through the process.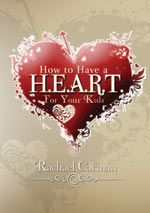 HEART is an acronym for 1. Have a heart for God 2. Enrich your marriage 3. Accept your children 4. Release them to God and 5. Teach them the truth.
While this book isn't lengthy, it packs a powerful punch. The author references a lot of scripture and I felt her heart for God and her children through this book. Important to note is her focus on her marriage as well. It seems so much of homeschooling is about the children, her encouragment to focus on the marriage we have before we even look to teach our children is a point not often made.
This book is available through Apologia Minisries for $13 and is a book worth buying for your own library and to lend out to others as well. I have come to expect a quality and integrity to the books purchased through Apologia. I still mostly think of Apologia as a Science Curriculum, but they are now about defending the faith we have in God and the Bible through a variety of resources. They have always been an encouragement to me and a source of light and truth in the gray world we currently live in.
How to Have a HEART for Your Kids was provided to me for free in exchange for my honest review, as part of The Old Schoolhouse review crew.
0 Comments