Wondermaps (TM) is wonderful!!
Tuesday, May 17, 2011
Bright Ideas press has really done a great job of putting the world at our fingertips for only $49.95. What is WonderMaps? It is a software with over 350 maps. You can watch a 6 minute tutorial on the Bright Ideas Press site. I imagine there is a way I can link it here, but I don't know how to do that! So, simply go to the link above for the Bright Ideas Press website and scroll down to the bottom once you are on the site.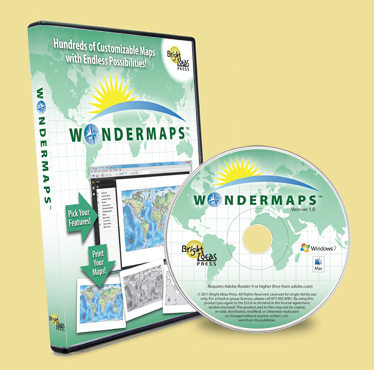 The maps are grouped by Continents, USA, Historical Maps and Thematic maps. Those maps can be viewed in several different ways. You can choose to view in black and white, color and add or delete various labels. This is a very handy feature for quizzing or reviewing. If you need outline maps, you can do that. This program filled a huge need in our family. I am not very strong in geography. I take so long to find a location that sometimes I put the searching off for "later" and often that time never comes. My children love geography and love searching for locations. I just don't always take the time required. By viewing the maps on my laptop or the kid's computer in the school area, it means we don't have to track down the globe or map of the world. My children always play with globe and I have to keep interrupting my reading or teaching to ask them to stop. So, while that might not be a big deal in most families, this program does remove that issue also! Lastly, I can print the maps to use as quizzes or whatever!
If you use Mystery of History or All American History with your students, you can click on either of those, choose what you are using and access all the maps used for those.
You can register your WonderMaps and get updates as they become available. This is great since I am sure more will be added and/ or tweaked in the future. Yes, there are some errors in this version. I expect that in a 1st edition. I still highly recommend WonderMaps for your homeschool family. The license is for a single family and not to be used with a co-op either. However, there is an upgrade available, if you wish to use this program with a group. There is also a version available for churches.
I love how prominent both the home and teacher's guide buttons are. You might want to take a peak at the technical FAQ as well. It could help you decide if this will work with your computer. Almost all of Bright Ideas Press material work on a MAC as well as other types of PCs. I don't think there is a particular age range for this product. People of all ages can benefit from knowing more geography!
You can always contact Bright Ideas Press at 877-492-8081 or through their website- if you have additional questions about any of their products. Customer service has exceeded my expectations on the few times I have needed assistance.
Wondermaps was provided to me for free through the TOS review crew in exchange for my honest opinion.
0 Comments